Hope Cemetery in Barre, VT really is a haunting work of art!
Located on a small hillside just outside of Barre, VT, the "Granite Capital of the World", the Hope Cemetery stands as a magnificent tribute to the stone cutters and artisans peacefully interred among their very own creations. Entering the front gate, you will pass by two granite sentries, forever watchful over their abode. From the moment you arrive you'll notice this is no typical resting place for loved ones gone by. It is truly a gallery of splendid artwork, in the most unusual of settings.
Thank you for reading this post, don't forget to subscribe to our email list for the latest news!
Get a copy of this Journal to take notes of your visits
At first, you might think that it would be a bit bizarre to visit a graveyard for reasons other than visiting long departed friends or relatives. However, once you realize the scope of artistry and craftsmanship inherent within Barre's Hope Cemetery, it would truly be a shame to miss these unusual works of art. They are literally a credit and monument to the ingenuity of the people who created them, as much as a memorial to the people who are interred within or under them.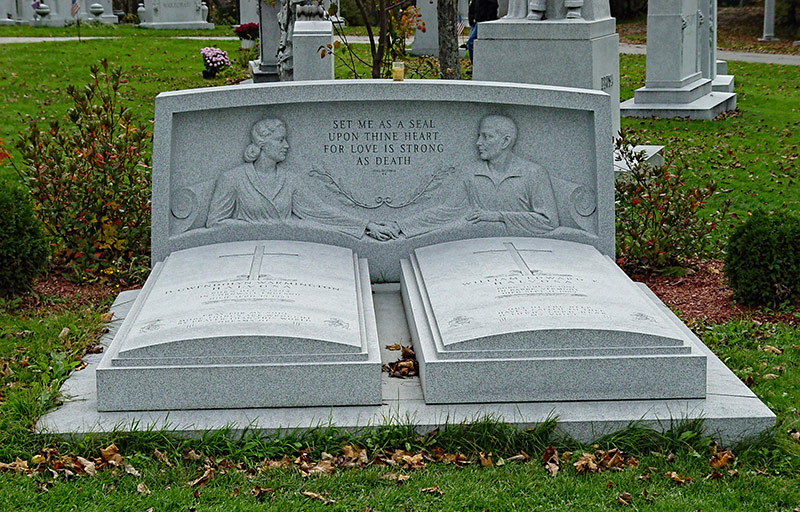 One of several remarkably eerie but emotionally touching tombs shaped like a bed
As seen in the photo above, William and Gwendolyn Halvosa are shown sitting up in pajamas, holding hands, their tombs stretched out before them. No doubt, preparing for what will be a very long night of sleep.
The story behind the unique Halvosa tomb was recently contributed by from Phyllis M. Mann on the Facebook Haunted Vermont Group:
The bed monument in Hope Cemetery was built by William Halvosa for his first wife. The Halvosas' were friends of my in-laws and if I remember correctly, the first wife was middle-aged when she died, leaving him in grief throes and very difficult for him to accept. Apparently, they both were great readers and they read in bed together every night. After she died, you could go up to the cemetery before it closed at dusk and find him sitting on his side of the bed reading. Of course, people thought him daft, but he wasn't. People have to deal with grief in their own way. A few years later Mr. Halvosa found a new love whom I never knew, and I really never heard much from then on – every one was getting old and leading their own life. Many stories from gravestones and empty buildings are always there.
Get more fantastic stories in this must read book about the Hope Cemetery and the people interred there along with more history.
There is another nearby tomb similar in style but lacking the elaborate headstone that this work portrays.
Every time I have visited Hope Cemetery, I find something different that catches the eye and the imagination. Every monument has a story to tell about the life of the person they represent or the stone cutter who so perfectly created the stone masterpieces. It is very common to see out of state visitors marveling over the magnificent and unusual tombs and monuments. Many taking photos with their phones and cameras, others fascinated by the stories engraved upon some of the monuments. On one occasion, a group of Japanese tourists were gleefully enjoying photo ops within the grounds of the impressive Hope Cemetery.
Hope Cemetery – A Work of Art and Beauty
The "Bored Angel" (as shown in the photo above), also known as the "Sitting Angel", is the work of carver Louis Brusa. It rests between columns, legs crossed, head balanced on her chin. Brusa's own grave features a strange sculpture of "The Dying Man," slipping away, held by his wife.
Brusa passed away in 1937 to a common stone carver's ailment, silicosis, from a lifetime of breathing in airborne stone particles. Ventilation equipment added to the stone carving buildings in the mid-1930s help to eliminate the hazard.
Here's what distinguishes Hope Cemetery beyond the rest. Hobbies of the deceased are perpetually preserved through ornate stone carvings in the shape of pyramids, soccer balls, bi-planes and much more.
On any given day, it's not unusual to see tourists thoroughly amazed and snapping photos at Hope Cemetery. The race car above seems to be one of the most photographed monuments of all.
Stories of the living preserved in death, for an eternity
Another stone is carved in the shape of a bay window. A lady with a bonnet can be seen washing dishes next to a flower pot through the stone panes. Many other stones depict country scenes of Vermont highways, mountains and forests, beloved homes of the deceased and even a tractor trailer truck presumably the last reminder of a man named Galfetti.
A tilted cube rests precariously on a stone base marked with "Tree of Life" and the inscription of "Salesman" on the adjacent side.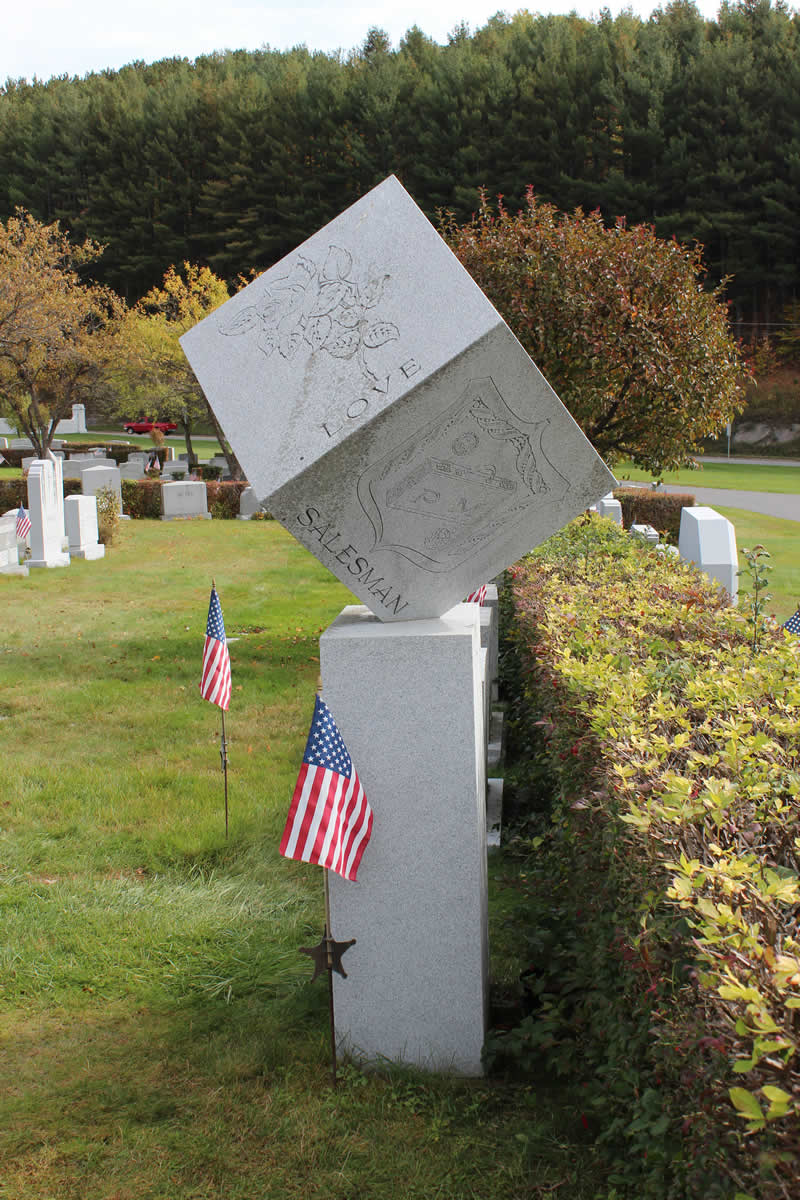 The truly awe inspiring statue monuments are perhaps the most ghostly of all. See Giuseppe Donati's stone, a raised relief depiction of a soldier smoking a cigarette, while the face of his wife or person close to him floats in a wisp of smoke.
Although it might be one of the more unusual attractions on the Vermont "must-see" list, Hope Cemetery in Barre is certainly worth a visit.
Thanks to a trusty SLR camera, we snapped a large number of photos on October 23, 2005 and just added many new updates in autumn 2016. Not only did we take some of the more "famous" memorials but also some of the more unusual and creative works. Stop by the Visitor's Center in Barre and check out the granite quarries too. Lots of great things to see and discover!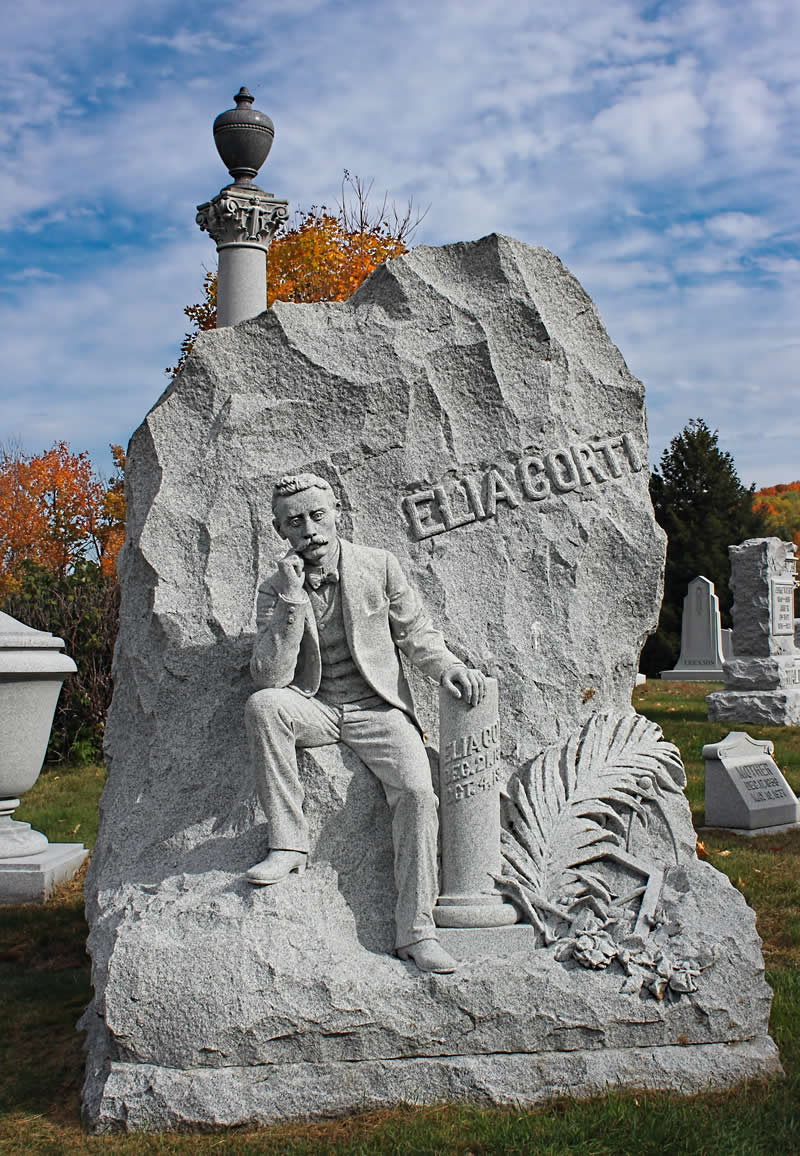 Elia Corti has one of the Hope Cemetery's most fascinating stones of all. It was cut from a single piece of granite by the brother of the deceased. The outstanding hand carved life size figure sits quietly contemplative for an eternity to come. The detail of the clothing and the tools of the granite trade almost bring this figure to life.
Hope Cemetery was established in 1895. Originally, it contained 53 acres. Since then, it has expanded to a total of 65 acres. Edward P. Adams, a nationally known landscape architect, created the original plan for the cemetery. There are over 10,000 monuments made of Barre Gray granite. Hope Cemetery is a popular tourist destination and part of the Rock of Ages granite quarry tour.
Cemetery art and symbolism in the tranquil Green Mountains of Vermont
A trip to Hope Cemetery is quite a fascinating experience, though just a bit unusual. It certainly is unique! For a view of the complete Hope Cemetery art photography, check out our Pinterest boards. Also check out the Vermont Graveyard & Cemetery Explorer's Guide pictured below. A great resource for exploring and documenting your Vermont cemetery journeys.
Save
Save
Save
Save
Save
Save
Save
Save
Save
Save
Save
Save
Save
Save
Save
Save
Save
Save
Save
Save
Save
Save
Save
Save
Save
Save
Save
Save
Save
Save