Visit Vermont and Discover the Northeast Kingdom!
Sentinel Rock, located on Hinton Hill Road in Westmore, VT, is a huge rock left over from the glaciers that formed nearby Lake Willoughby.
Does the massive boulder, Sentinel Rock, perched high atop Westmore Mountain, with the commanding views actually originate from ancient, biblical times?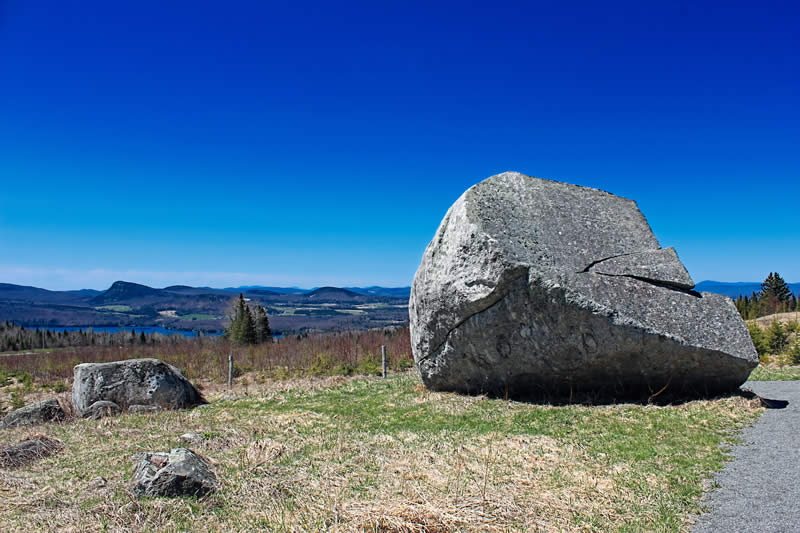 From Dr. R.M. de Jonge's research and fascinating article:
Sentinel Rock is located in Westmore, northern Vermont. It is a big 'glacial boulder', which turns out to be a monument of the Megalithic Culture of New England. It tells the well-known story of the discovery of America in the Fourth and Fifth Dynasties of Egypt (c.2500 BC). It bears a large petroglyph of a Comet, and it turns out to be situated close to an ancient crater having a diameter of 17 km. So, it also tells the story of the Biblical Flood, which occurred at the start of the Sixth Dynasty (c.2344 BC). It was caused by a Comet Catastrophe, at which more than half of the world population perished (2.6 million men). Nearby Lake Willoughby symbolizes this Comet. The monument dates from the Twelfth Dynasty (Middle Kingdom), c.1900 BC
The 356-acre Vermont state park is mostly undeveloped and features a parking area, interpretative signage and ADA accessible trails that lead visitors to Sentinel Rock and to the former site of the farmhouse.
Donated to the State of Vermont
In 1997, Windsor Wright donated a 356-acre portion of his family-owned Sentinel Rock Farm to the State of Vermont. Throughout their half-century of stewardship, the Wright family worked to maintain the property "in as good a condition as we found it and to share the enjoyment of the natural attributes of the location with others who would appreciate them as we have."
The Wrights donated the property to the Department of Forests, Parks, and Recreation (DFPR) with the intent that the state conserves the natural and scenic resources of the property and manage it for public use and enjoyment. The family also requested that the property continue to be maintained for hay and pastureland. Portions of the park continue to be managed as sustainable agricultural and forest land. It is open for sightseeing, hiking, educational pursuits, hunting, etc.
Dedication of the Sentinel Rock State Park
After 13,000 years in the making, on Saturday, July 11, 2015, Vermont State Parks hosted the dedication of Sentinel Rock State Park. The park is named after the iconic Sentinel Rock, a glacial boulder that stands in the center of the park and overlooks the northern portion of Lake Willoughby in Westmore, Vermont.
Sentinel Rock and the surrounding area has long attracted geologists, students, and others who are interested in the area's unique blend of bedrock exposure, glacially deposited boulders and expansive views of a glacially-influenced landscape.
Sentinel Rock State Park offers a day-use area for visitors to enjoy the wonderful, scenic qualities of the area.