Middlebury, VT's West Cemetery is the final resting place of an Egyptian Prince's Mummy
The last place you would ever expect to find an 8000 year old mummy is within the rolling hills of Vermont. Middlebury, VT's West Cemetery is the final resting place of an Egyptian Mummy.
Thank you for reading this post, don't forget to subscribe to our email list for the latest news!
This story's origin starts in 1883 B.C., long before Vermont even existed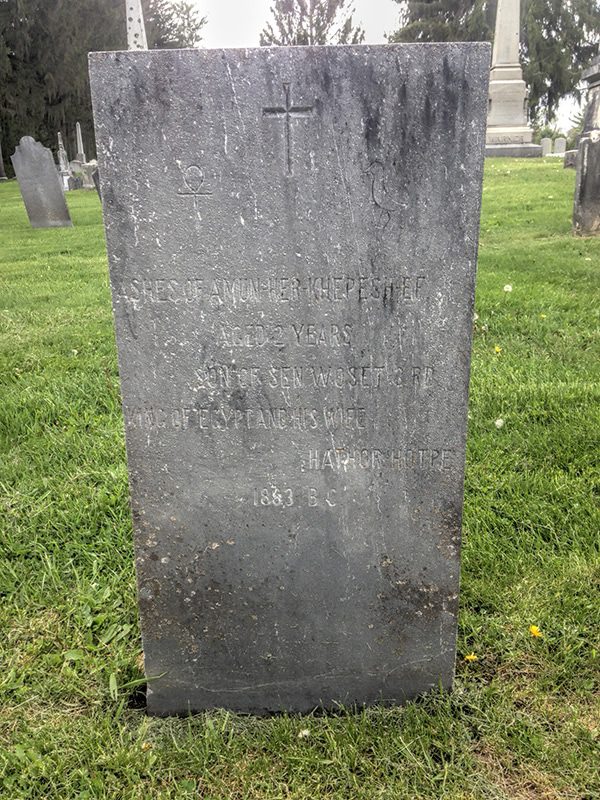 That ancient date, 1883 B.C., was when the young son of an Egyptian king, named Amun-Her-Khepesh-Ef passed away and was mummified for all of eternity. The mummy was the infant son of Sen Woset III, King of Egypt, and his wife Hathornhotpe.
How did an Egyptian mummy prince end up interred in a small town in Vermont?
Oddly enough, that is where the young mummy now rests in peace, Middlebury, VT. Rumor is that a local junk dealer, named Henry Sheldon, purchased the mummy from a New York antique dealer in 1866. He kept the mummy in his own house, along with a large collection of junk and trinkets (which eventually became a museum of sorts) until he died in 1907.
Final resting place for the son of an Egyptian King
The mummy was exposed to heat and cold, dry conditions and dampness. Its wrappings were decaying and the embalming process caused the body to begin decomposing. The thought of a person left to rot in a Vermont attic was appalling to George W. Mead, a Sheldon Museum trustee. Mead wanted to give the boy, believed to be linked to Egyptian royalty, a proper burial. So Mead had little Amun-Her Khepesh-Ef cremated and buried with his very own tombstone, within the Mead family plot.
The Egyptian prince's grave stone is engraved with his name, the names of his royal parents and the date, 1883 B.C. In addition to the inscription, the stone carries three symbols, two of which are Egyptian for life and immortality. A Christian cross is inscribed between the two Egyptian symbols, perhaps reflecting the Christian burial services provided by the kindness of George Mead.
Save
Save
Save
Save
Save
Save